How Peter won ₦1,000,000 from his ₦10 emPawa17 ticket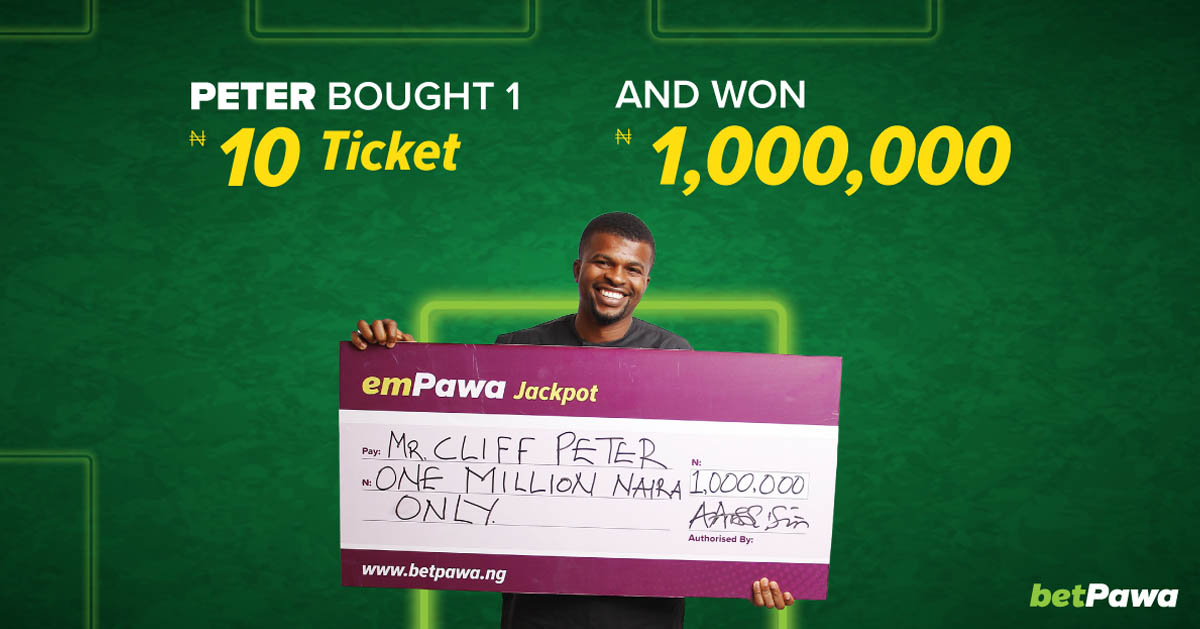 Peter Cliff got two results wrong but still won ₦1,000,000 on the 10/11 emPawa17 Jackpot game.
The winning ticket cost just ₦10 and there is a ₦20,000,000 Jackpot every weekend if you make 17 correct predictions. You can make up to four mistakes and still win a prize.
"Wow, I am just short of words. betPawa has just made my dream come true. I love betPawa," he said. "If you are into betting, I encourage you to come to betPawa, to bet small win BIG. Seriously, I can't explain it. Using ₦10 to win ₦1,000,000, how on earth?
"I was like wow. It was in the night, I was alone and I was just calling friends that are into sports betting like myself, like my brother: 'I have won ₦1,000,000', and he said 'WHAT'! I felt very happy and excited."
Peter's winning ticket
The Bauchi resident added: "I like the Jackpot because it is easier to make selections. There is nothing for you to do rather just pick your games 1X2.
"I am a football fan, I support Chelsea. No matter the odds given to a team, that does not inform my decisions. I do my research because I do follow these teams and also follow my mind."
What inspired him to choose Liverpool against Man City? "I considered the injury woes of Man City. City's number one goalkeeper was out based on injury and their second choice goalkeeper is not that good. Liverpool was in good form and their squad was complete."
Not even a wet phone could stop the celebrations. "After playing this particular Jackpot, my phone fell into the bathroom sink, so I was not hoping on this one at all," he explained.
"There were two games left, so I was scared and collected my friend's phone to check my Jackpot. The height of my fear was Marseille v Lyon because at 90 minutes, Marseille were leading 2-1. I was just hoping Lyon would not equalise."
Peter's BIG plans
The businessman joined betPawa earlier this year following his friend's recommendation. What will he do with the ₦1,000,000? "I have not touched the money. I have a lot to do with it, like investing in my business, and how to use the money to generate more money."
He also had a message for people from his town: "When you have the mind to do something, just do it. I only play within my means any time I choose to play. I don't go the extra mile to bet. If I win fine and if I did not win, I will try again next time. That is life. You win some, you lose some."
Want to win BIG like Peter? Sign up with betPawa.
What are betPawa's Jackpot games? betPawa runs emPawa17 every weekend in Nigeria, where customers can win up to ₦20,000,000 from a ₦10 ticket. There are cash prizes for anyone who gets at least 13 results right. You can also play emPawa13 every midweek, with a ₦1,000,000 Jackpot for 13 correct results.
betPawa is the easiest way to bet online securely. Not only do we offer the best odds and the opportunity to bet small win BIG with a minimum bet of ₦1 and win bonuses up to 250%, we also provide 24-hour support to customers who need it.
Are you the next winner? Visit: www.betpawa.ng